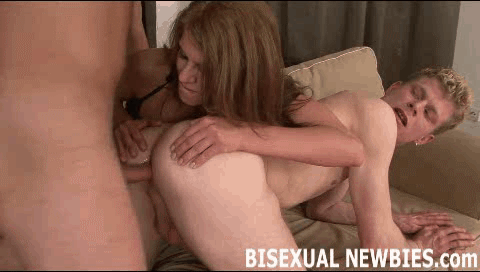 share gif:

This hot babe has agreed to have sex with you, but it comes with the catch of another guy being there. You're not sure about bisexual action just yet, but what do you have to lose?

She's really hot, and I suppose I do find some dudes attractive - let's just hope that the other guy is as hot as she is. Wow, that's one impressive male and I can see why she invited him along. That cock is pretty big too - I'm amazed that he's packing so much heat. Let's get down to business then, I want to suck on his dick.

It tastes a lot better than I expected. I'm getting really turned on from taking his thick dick deep in my mouth. To be honest, I just want to get it deep in me. Fuck - that feels so incredible. He's treating my ass to that hot dick and I feel so amazing now that I've embraced the bisexual side of me. The sooner this happens again, the better.